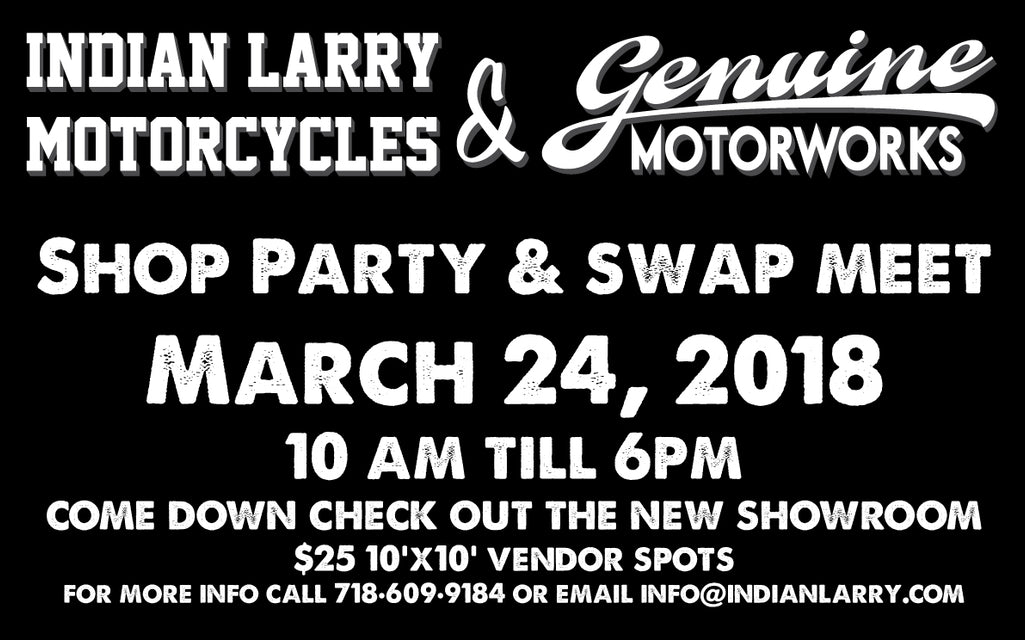 We are excited to kick off riding season with a party. So much has happened over the past few months here at the IL & GM stomping grounds. We've got a newly renovated showroom designed with a little more space to expand the shopping experience and welcome Genuine Motorworks to the IL team. We've included more product for a one stop shop convenience. Helmets, riding gloves and gear now paired with collectible Indian Larry Tees and hand crafted parts. Featuring top quality brands like, Iron & Resin, Genuine Workwear, Mad Squirrel, Pendleton and Biltwell to name a few.
Accessories like travel bags, roll up tool bags, Tres Noir and Crimson sunglasses at steel prices along Dice magazine, Mexican style blankets and IL Camp Mugs bring it all together under one roof. 
To show off our goods and unique one off bikes, we are throwing a party! Not only will we have all the above mentioned products, we will also have a swap meet going for all you deal seekers. Motorcycle parts, tires, a few car parts all thrown into the mix. Also, as a bonus deal - spend $50 get a Free tee! Can't beat that. 
Beer flowing while the music floods the showroom and endless amounts of motorcycle enthusiasts supporting the culture that has brought creativity and passion to many. 
Live free and ride over to our Shop Party and Swap Meet!
MARCH 24TH, 2018
10AM TILL 6PM
70 N 15TH STREET, BROOKLYN NY 11222
VENDOR SPOTS AVAILABLE - $25 FOR 10X10 - CALL (718)609-9184 OR EMAIL INFO@INDIANLARRY.COM