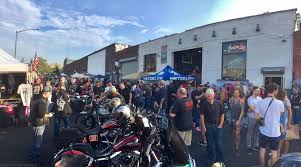 The 15th Annual Grease Monkey Block Party 
Its that time of year again. September 15th marks the most anticipated party in the motorcycle community. The 15th annual Grease Monkey Block Party. We use this time to celebrate everything Larry loved. Surrounded by kick ass bikes, ice old beers, delicious BBQ, live music and more!
The Block Party is free to enter and enjoy. Pay as you go, food and drink are available to everyone who enters. Vendors will be out in full force to sell their unique products and the IL showroom will be open selling tees and parts. VIP passes will be available as a deal package that will include, free collectible block party merch and free food and drink coins. 
SAVE THE DATE
September 15th 11AM - 8, 9, 10....

Stay tuned for more details....
THE BIKE SHOW
Want to show off your motorcycle? Enter the Grease Monkey Bike Show for a chance to win in one, two, three or all of four categories!
BEST VINTAGE
BEST PAINT
BEST CUSTOM
BEST IN SHOW
Enter your bike by emailing us at - info@indianlarry.com - Tell us what category you wish to enter and feel free to send a snap shot of your hopeful winner. Enter at any time, including the day of the Block Party September 15th - 4PM-5PM is trophy time!
SMOKE AND MIRRORS ART GALLERY
Showcasing artists you need to know. Various works of art by some talented folks. See what moves you and purchase on the spot. All work shown in the gallery will be for sale.
BLOCK PARTY VENDORS
The street will be lined with vendors selling unique items. Shop while you enjoy the party and support your local businesses. 
Want to be a vendor? Email us about your company along with a link to view products at - info@indianlarry.com - If we like what we see, we'll invite you to sell during Brooklyn's biggest party! Spots are 10 x10 space outside. Tents, tables, chairs and general set up will NOT be provided so bring whatever works best for you and your goods.